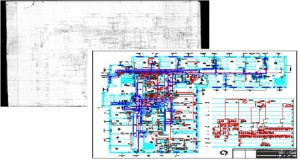 If we told you we could be saving you money, saving your staff frustration and time, all well providing state of the art technology to run it all efficiently.
Would I have your attention?
Document Conversion Management Inc. have been saving your peers 75% of their in house costs on their documents redraw needs by converting drawing hard copies, drawing prints, drawing scans, PDF, JPEG, TIFF files to AutoCAD.
Cost Comparison? 

If you were to redraw in-house yourself,
the cost for a "D" size medium density drawing typically would be: Hours to redraw: average 24 hrs (3 days)
Cost per hour (wage and overhead) $42/hr
$42/hr x 3 days = $1008.00

Our price! $252 ("D" size)
Savings of $756

Call today –> 1-855-858-CADD
Why does the DCM Inc process work? | What is different than what I have tried before? | 
Is this automated canned software? No, that requires hours of clean-up! 
 Fair questions and Statements!
Our years of experience, exclusively unique systems and processes that combine automation with hands on digitization. As well, our 8 point QA/Quality Control  process leaves nothing to chance and provides you with CAD drawings that are accurate and ready for immediate use to your specifications.
Send us your hard copies, prints, scans, PDF, JPEG, TIFF files in just about any format. Good or poor quality drawings and let DCM Inc create superior quality CAD files; risk free. Contact Us.
We take pride in our work and offer top quality CAD conversions at the most affordable rates in the market. Our usual turnaround time is 3 business days for 1-5 sheets and 3 to 5 business days for orders of up to ten sheets. Let us know your requirements.
Paper to AutoCAD
Raster to Vector
PDF to AutoCAD
TIFF to AutoCAD
Photographs to CAD Conversion
Multilayered
Hand sketches to AutoCAD
Microstation
AutoCAD
How Can Your Firm Benefit by Utilizing DCM?
Cost reduction in converting from paper to CAD (lower bid submissions and/or an increase in your profit margin)

Free staff up to work on productive schooled tasks (Billable activities!!!)

Fast project start up as our turnaround time is 3-5 business days typically, in the order of your priority needs

Quality, ready to use drawings to your specifications!
Problem Drawings?
Not a problem!  
Here's the Proof!! Repeat clients that have returned month after month and year after year!
"You did a great job and met our expectations 100%." – UMA Engineering

"I verified the plan and it is exactly what I need; the scale of the drawing is correct and I wanted to thank you for the good work." – Stantec Consulting Engineers

"Great work! Thank you for the quick response and turn around on this drawing. We will certainly be using your services again as well as recommend you to others." – Klingner & Associates, P.C.

Contact DCM today!